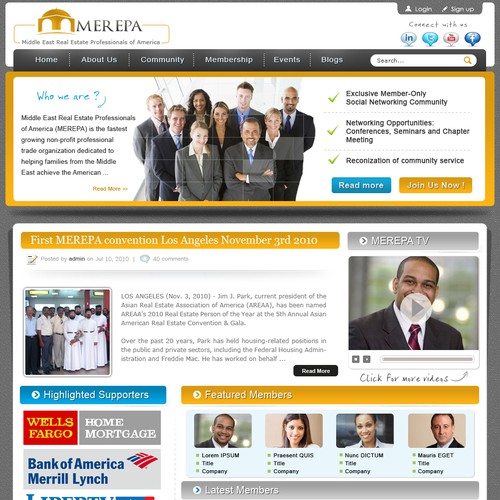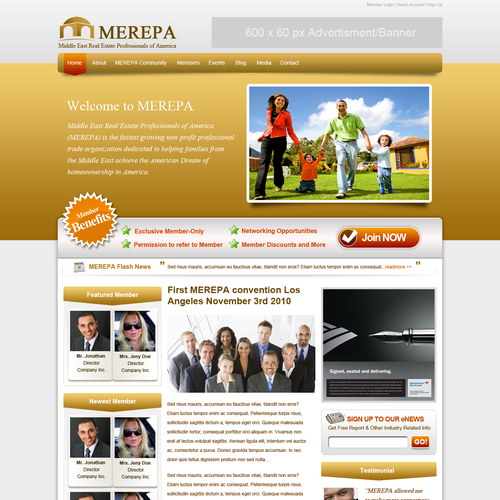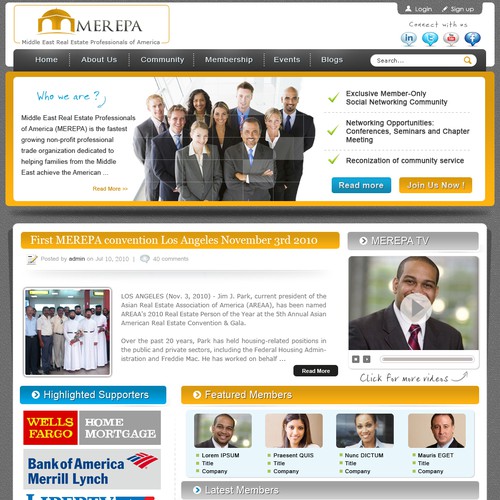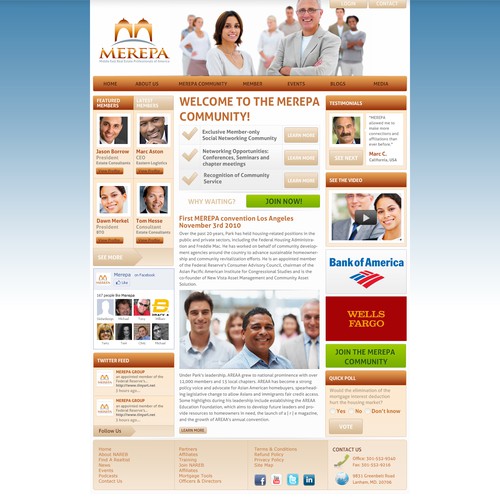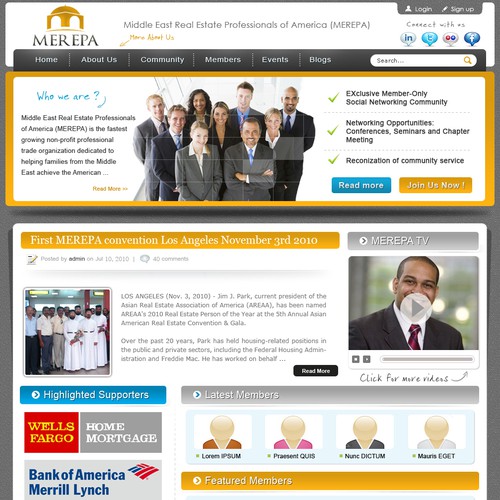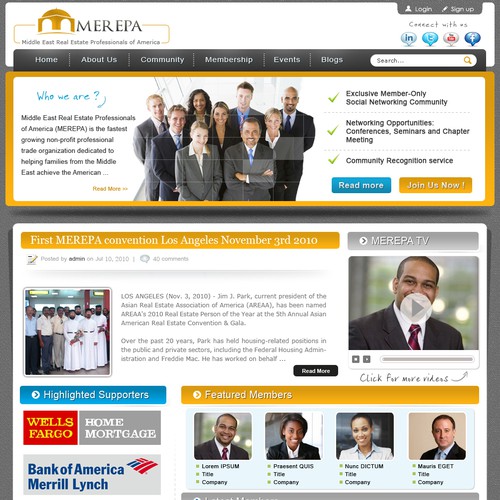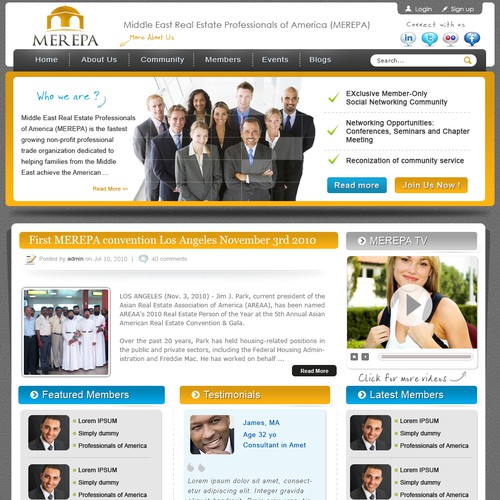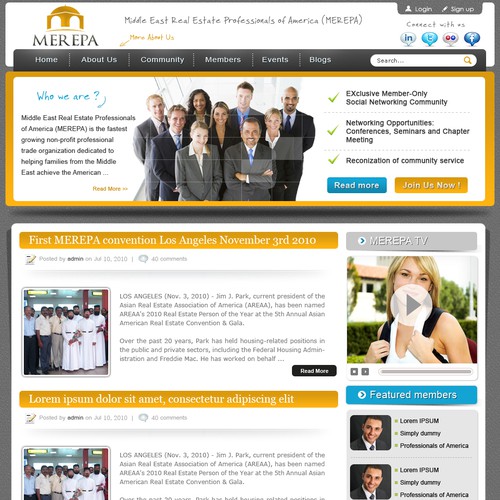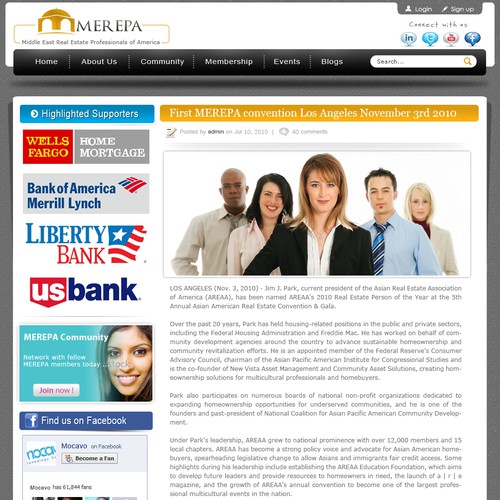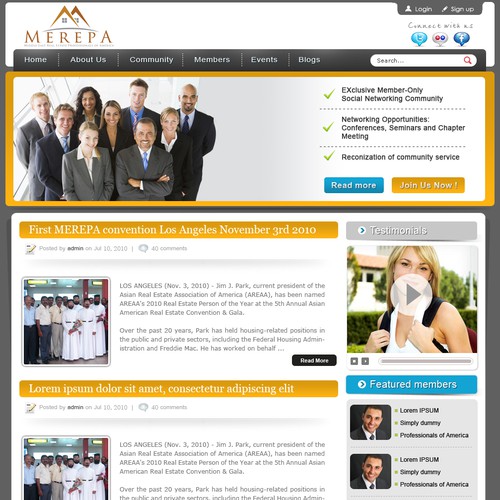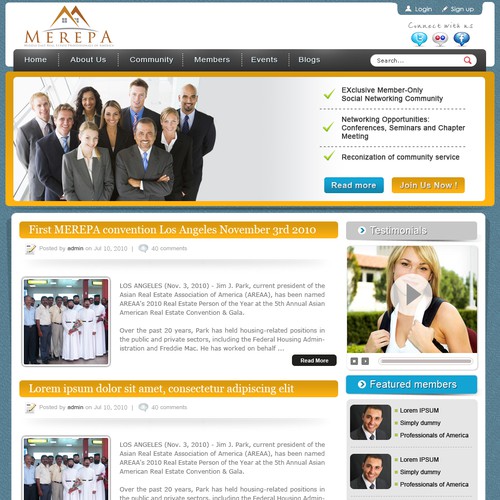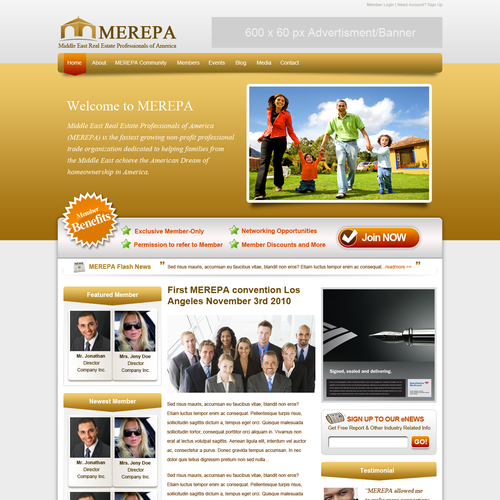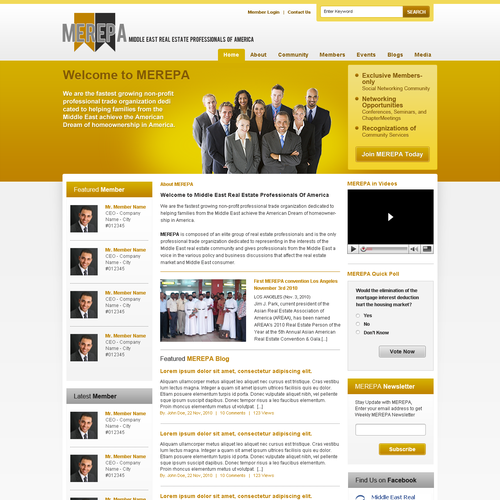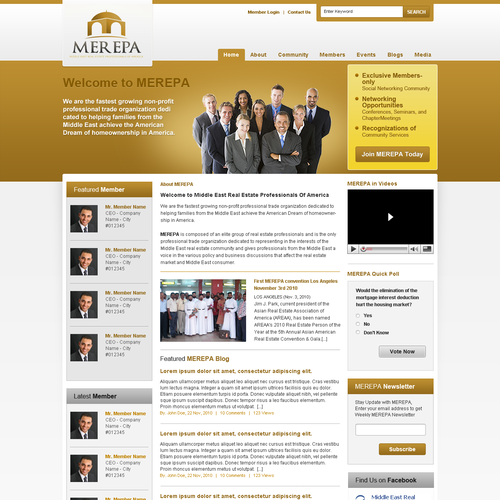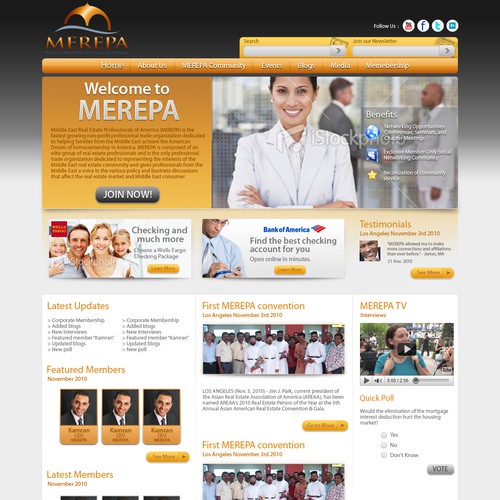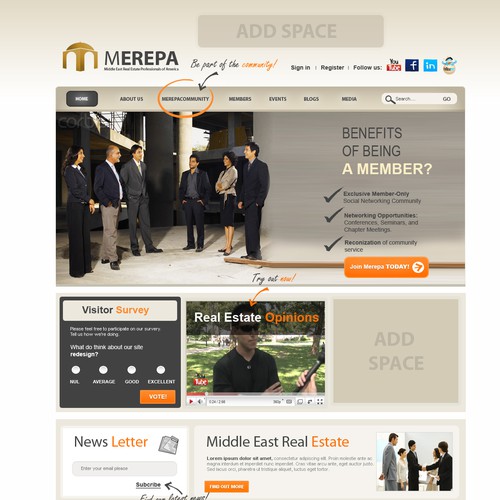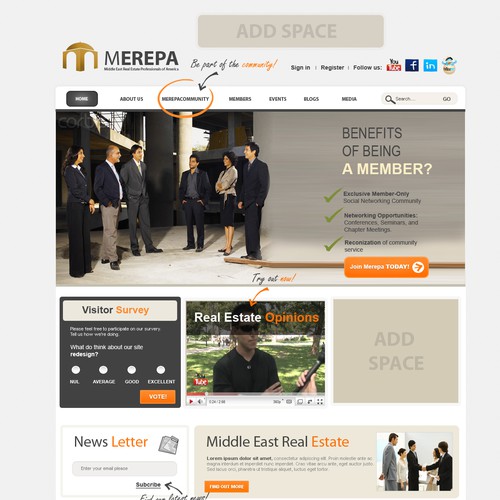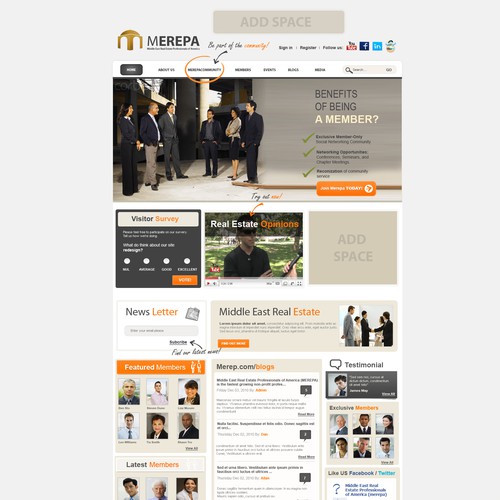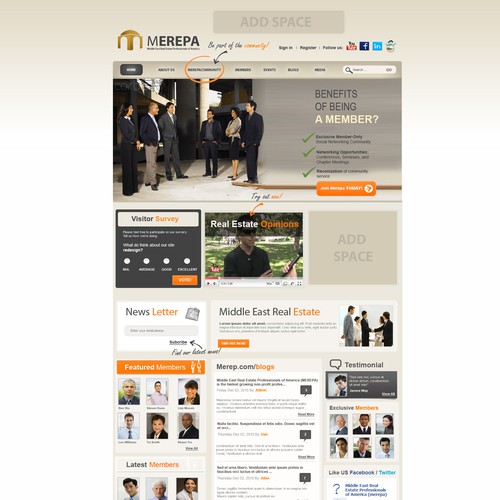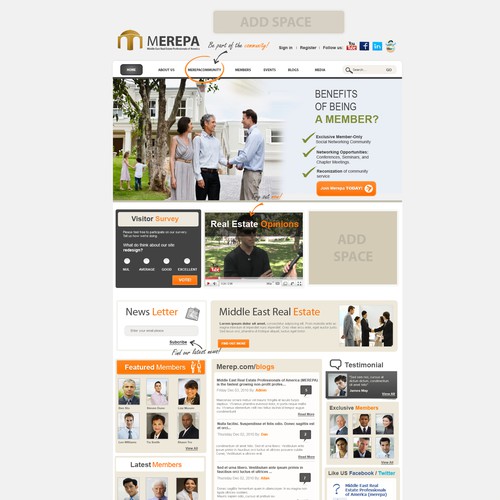 One of the designers who made it happen
Winner - Addicted2web
- bolmsted
How Kam501 started their web page design journey
Company name
MEREPA : Middle East Real Estate Professionals of America
Overview
Who we are
Middle East Real Estate Professionals of America (MEREPA) is the fastest growing non-profit professional trade organization dedicated to helping families from the Middle East achieve the American Dream of homeownership in America. MEREPA is composed of an elite group of real estate professionals and is the only professional trade organization dedicated to representing the interests of the Middle East real estate community and gives professionals from the Middle East a voice in the various policy and business discussions that affect the real estate market and the Middle East consumer.
Our Mission
Our mission is to educate and help families from the Middle East achieve the American Dream of homeownership in America by empowering the real estate professionals that serve the community.
Member Benefits
-Networking Opportunities: Conferences, Seminars, and Local Affiliate Chapter Meetings.
-Exclusive Member-Only Social Networking Community
-Permission to refer to Member (MEREPA)"
-Member Discounts
-MEREPA News and Updates
Membership Levels
Full Membership: $99 annually
Corporate Membership:
Who May Join?
Membership includes housing and real estate professionals of all cultural backgrounds and is open to those who support the mission of increasing sustainable homeownership in the Middle East community
Tell us a bit about who you are and the people you reach
MEREPA's membership represents a broad array of young and seasoned real estate and real estate related professionals including but not limited to: Brokers, Agents, Asset Managers, Mortgage, Escrow & Title, Insurance, Construction, Home Warranty and housing-related professionals that serve the diverse Middle East community. We are also tarketing major corporations, banks and governments agencies like Fannie Mae, Freddie Mac, Band of America and Wells Fargo to support our organization thru sponsorship.
Requirements
- Wordpress CMS site to allow for flexibility and strong seo growth
- Width of pages witin 1,000 pix to avoid a horizontal scroll bar at 1024 resolution
- Theres also a current contest for our logo. Please feel free to use a sample of one of the logos that have not been eliminated yet.
- I went to Istock to look for photos. I'm attaching a few to get some ideas.. If you can find better ones than please do!
Page descriptions
Very Simple. Everything I want is currently on http://www.merepa.org just the current layout and colors are not visually friendly. It should be visually welcoming and explain who we are and what we do. I like round edges but its not mandatory
Page needs to:
- 1 main photo cropped out or not..whatever looks better! Preferrable a large group. If we can find an attractive woman from the Middle East in business attire on the home page possible in the front that would be great!
- 2 advertisement spaces for corporate sponsors
- Testamonial Spot
- Quick Poll Spot
- Spot for Blog
- Spot advertising our exclusive member only social network
- Have a spot for youtube video
- Spot for Like us (facebook) & Twitter
- Spot for 4 social networking icons (follow us) youtube, linkedin, fb, twitter
- Section for paragraph of "about our organization"
- Join now button
- Section for describing member benefits
- Navigation Bar top
- Spot where someone can imput their email address to receive newsletter updates
- Site map at bottom (see current)
- Section for featured members and latest members: I want the pics for the featured members and latest members to be large enough so the pic can be seen clearly but not to big. Also have a small description of who they are at the bottom of the pic. I plan on having some very respected professionals in those spots to attract new members.
Existing website
Free features
Blind contest

Guaranteed

Fast-tracked
We've found some similar contests you might like