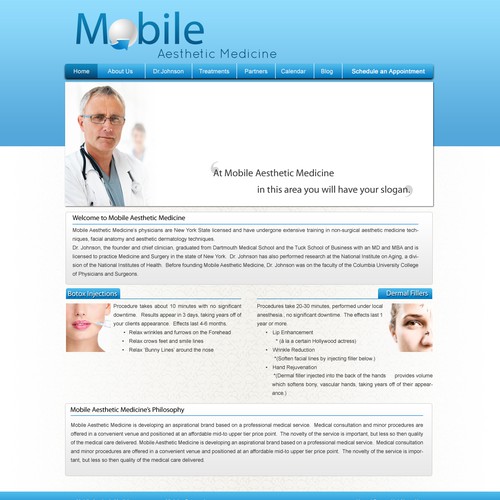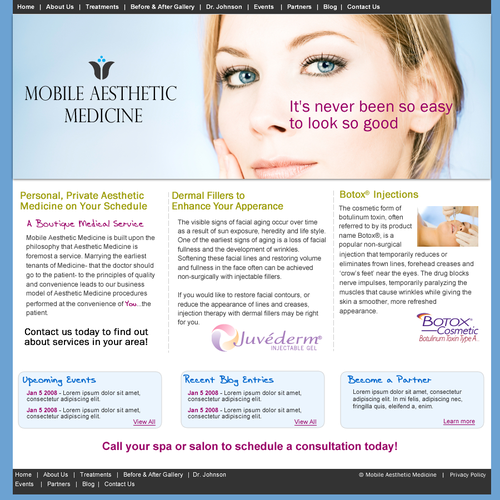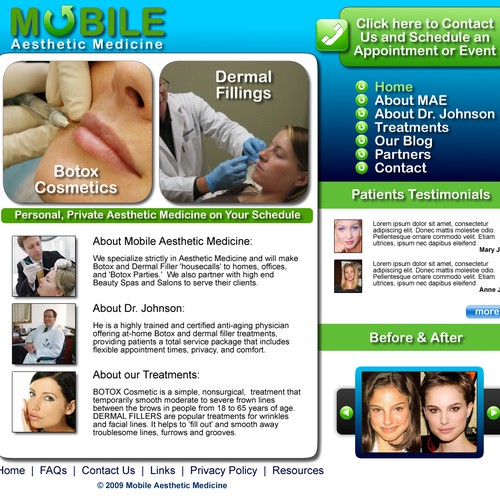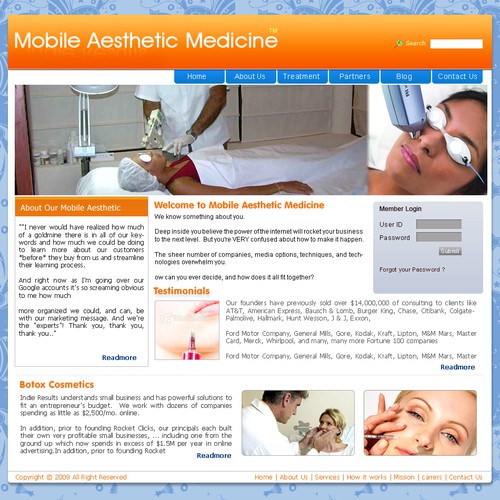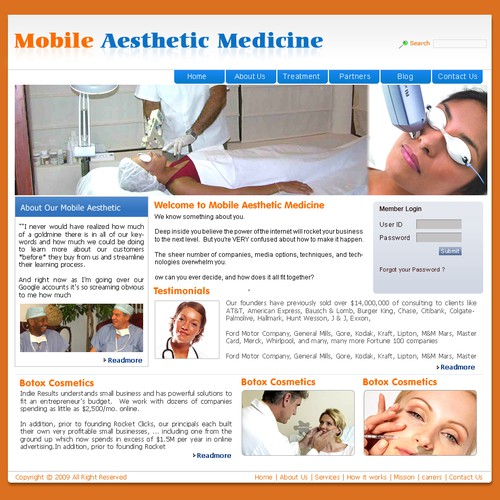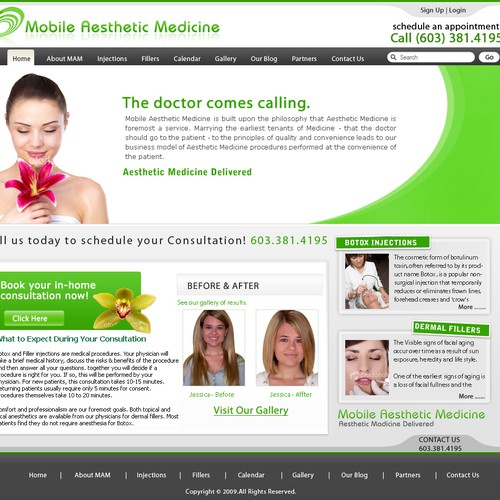 One of the designers who made it happen
Winner - erwin so
- mina10
How oneiro started their web page design journey
Summary
This contest will be guaranteed shortly, I just paid the fee for it.
I need a website for a new Mobile Aesthetic Medicine service, specializing in Botox and Fillers.
It should 'sell' me as an MD specializing in Botox and Fillers, emphasize the 'mobile' and boutique nature of the service, and have a 'call to action' prominent on the home page-to call or email to schedule an appointment/event or for more information.
I'm the only doctor I know doing something like this in the US, although it's more common in Europe.
Company name
Mobile Aesthetic Medicine
What inspires you and how do you envision the design for your business?
I am an MD specializing strictly in Aesthetic Medicine.  I will make Botox and Filler 'housecalls' to homes, offices, and 'Botox Parties.'  I also partner with high end Beauty Spas and Salons to serve their clients. 
I am operating as 'Mobile Aesthetic Medicine.'  I need an elegant website to advertise my services and book appointments (or at least have people call or email me.)  A site with an incorporated logo conveying motion and beauty would be preferred as I don't have time to host two contests back to back and I'd rather have the same person integrate them. I realize the logo is a little much to ask, so I'd be very happy with anything simple. 
At drop.io/romanmd I have placed:
- before/after pictures of botox and juvederm patients (juvederm is a dermal filler used for example to plump lips or fill some types of wrinkles.)- I also have .docs and .pdf's of a couple brochures I made.  One is targeted at the Spas/Salons I want to partner with (to treat their clients or to perform procedures at 'botox parties' they host.)  The other brochure is targeted at patients.  They should give you an idea of my business.  Questions can be sent to me at: alarmingbore@gmail.com as that forwards to my phone.  I'll also be checking here often of course.
Wants
-  All original files including layers.
- A subtle background pattern or color.  White is good too, perhaps with a fine lace fillagree pattern or some such tessellating pattern.
- Coded in a language suitable for SEO, CSS or Xhtml preferred.  Preferably something I can just upload to a server.
- A site that conveys Medical Professionalism and a sense of Aesthetic taste. 
- A site which definitely emphasizes the 'Mobile' in Mobile Aesthetic Medicine.
- A clearly Identifiable positioning statement - something like "Personal, Private Aesthetic Medicine on Your Schedule."
- Pages:- Home page which will have space to talk about Botox and Dermal Fillers and Mobile treatment (so that it can be ranked by google.)
- About Mobile Aesthetic Medicine
- About Dr. Johnson
- A Calendar page for listing future events. (In the future I'd like to have people be able to sign up for events here.)
- A 'call to action' in the form of A Large and Prominent link on the home page to a 'Contact us to Schedule an appointment or event' page- preferrably an oversized button/image or somesuch.  
- A link for a Blog
- A link to a Before and After Pictures page
- A 'Treatments' page specifically for potential patients providing further Information about Botox and Dermal Fillers (I can provide the copy if you make the page design.)
- A 'Partners' page specifically for beauty spas/day spas I'll partner with (eventually to be password protected) describing the benefits of partnering and what I'll do for them.  (again, I'll write the copy for this- I just need the design templated)
Don't want
- A 'template' looking site.
- Anything either too artsy or too stodgy or altogether 'noisy'.  (Just subtly hip and elegant.)
- It must have a professional, medical feel to it.
Free features
Open contest

Guaranteed

Fast-tracked
We've found some similar contests you might like