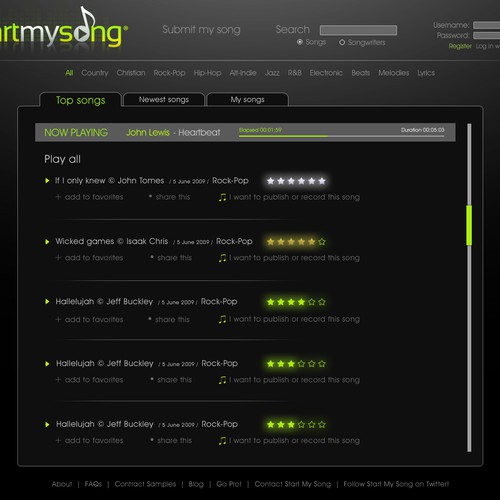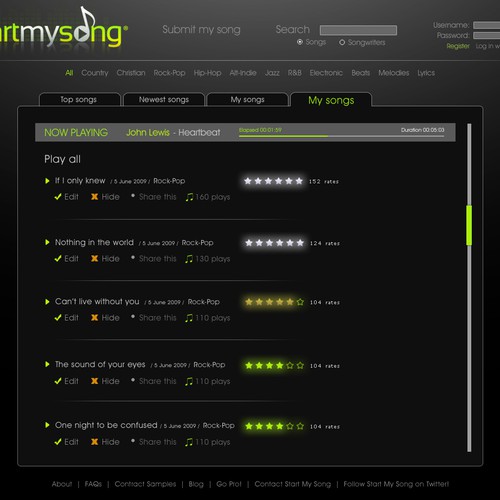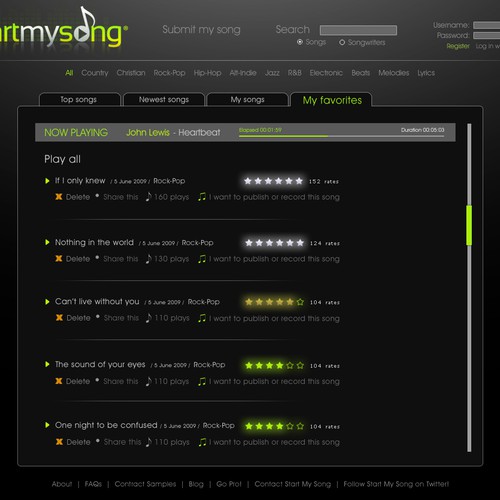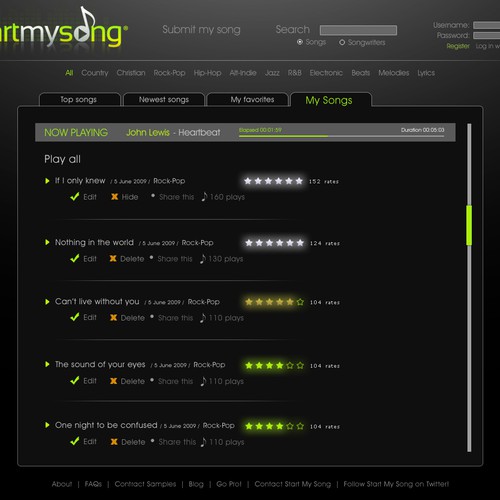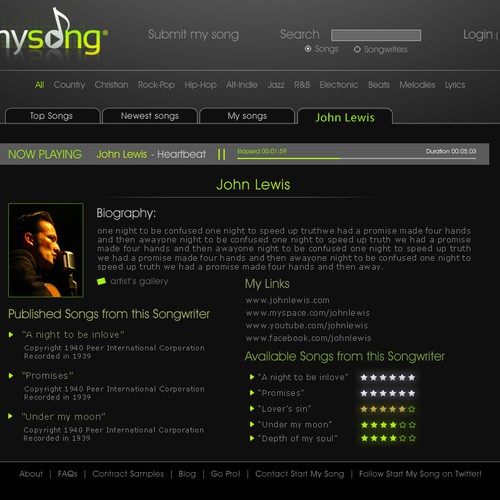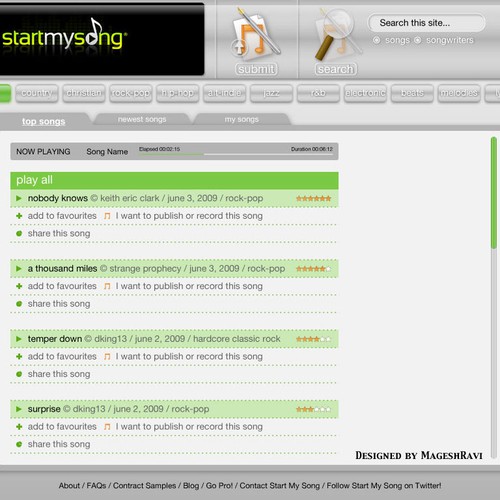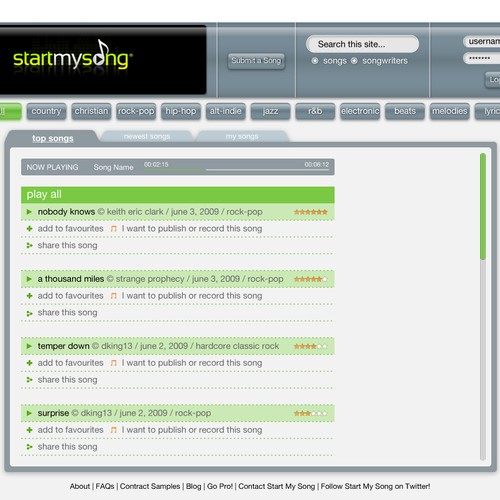 How Scott McIntosh started their web page design journey
Overview
Start My Song is a Nashville based website where songwriters from around the world can upload their songs for free and get them in front of Song Producers and Artists looking for new songs. Listeners around the world can also log-in and rank songs they hear to better filter the best songs to the top. We've just had our new Logo designed on 99Designs and are ready for the webpages. The new site will look and work like Digg.com and list all the songs on the home tab. The site will not be pages but work with Tabs like the newer browsers are doing. The site will be 1 main page with selectable tabs to navigate the sections.
Tell us a bit about who you are and the people you reach
Target Audience is songwriters / song producers / musicians looking for music for their albums / and new music fans around the world.
The site must be branded after the current LOGO which is currently at the top of the site now (http://www.startmysong.com). I can also send you the logo files (png / jpeg / psd). I can also send you a word file that has the site layout better than what I can describe but I will do my best:
Here is what will be on the site: (< > designates a button).(1) HEADER:
LOGO / <SUBMIT MY SONG> / SEARCH Songs or Songwriters box / <LOGIN> (note: clicking log-in will bring up a clean looking box in the middle of the page which allows user to input their username and password or Register or Login with FACEBOOK) (2) Line above TABS:
Only Show  <All> / <Country> / <Christian> / <Rock-Pop> / <Hip-Hop> / <Alt-Indie> / <Jazz> / <R&B> / <Electronic> / <Beats> / <Melodies> / <Lyrics> (This line lets users select what type of songs to show. Defualt is the all tab) (3) Tabs = Top Songs / Newest Songs / My Songs (profile tab)
(These are the labels for the tabs) (4) Sponsored Song. (5) Song List
<Play All> (plays all the songs in the list). Song example:
Play button <Song Name> Copyright Symbol <Jane Smith> March 5, 2009 Genre OOOOOO <+ Add to fav> <I want to Publish or Record this Song> <Share This>
Requirements
There is also a play button to the left of each song (this should match the logo play button). The circles represent the song's ranking. The first five circles are GOLD RECORDS and the 6th circle is a PLATINUM record. The ranking system will work like Netflix and the 'records' will fill in by the average score of people who are ranking them. In the sample, the top song should have the highest score and then filter down from there. The <Add to fav> button will just be the + sign. The other buttons in the songline will actually open a new TAB (like a tabbed browser). Clicking the <Song Name> takes you to a new tab containing info for that song...new tab with the song.....
Contact me for the full brief, not enough room to explain what I want:
scott@startmysong.com
scottmunc@yahoo.com
Free features
Open contest

Fast-tracked
We've found some similar contests you might like